What is Sepsis? #
Sepsis is a life-threatening, critical illness that occurs when an infection triggers a chain reaction throughout the body. It can lead to tissue damage, organ failure, and even death. Sepsis is caused by a variety of microbes, such as bacteria, viruses, fungi, and parasites. The most common types of bacteria that cause sepsis are Escherichia coli, Staphylococcus aureus, Klebsiella pneumoniae, and Pseudomonas aeruginosa. Neuropsychologically, sepsis can lead to altered mental status and long-term cognitive impairment as a result of central nervous system infection and brain dysfunction.
Risk factors for developing Sepsis #
Sepsis risk factors include having a weakened immune system, being over 65 years of age, and having a chronic illness such as diabetes or HIV.
Symptoms of Sepsis #
Sepsis can be difficult to diagnose since the symptoms can vary from person to person and can mimic other conditions. Common symptoms include fever, chills, increased heart rate, increased respiratory rate, confusion, and low blood pressure.
Treatment for Sepsis #
Treatment for sepsis usually involves antibiotics and supportive care, such as fluids and oxygen. In severe cases, organ support, such as dialysis, may be necessary.
Can Sepsis affect the brain? #
Yes. If the infection crosses the blood-brain barrier, then sepsis can affect the brain and this can result in various Neuropsychological effects.
Underlying mechanisms of sepsis-related brain injury #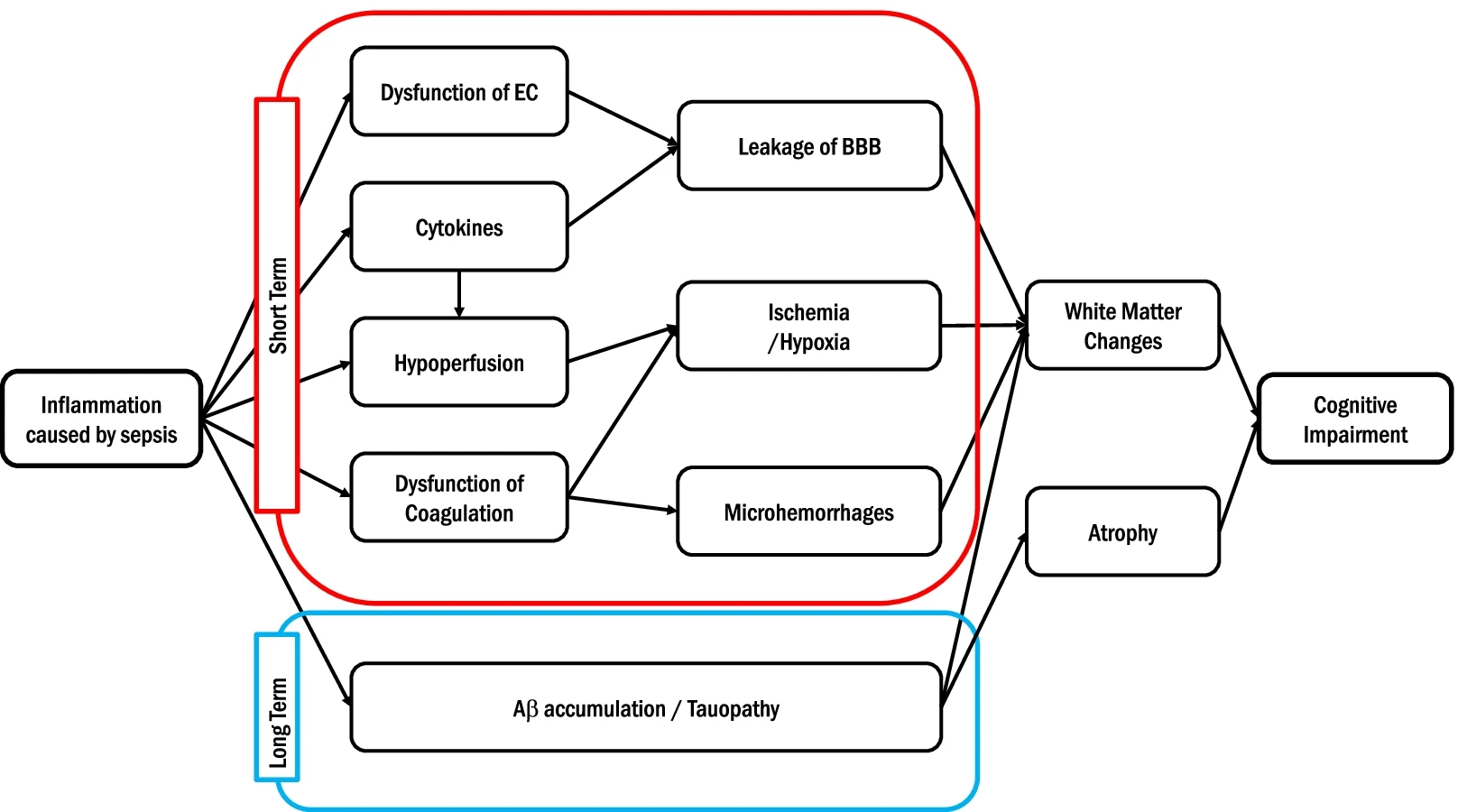 According to Sekino & Shehadah (2022), the inflammation caused by sepsis "induces dysfunction of endothelial cells leading to blood–brain barrier leakage. Proinflammatory cytokines can lead to blood–brain barrier leakage and contribute to hypoperfusion. Hypoperfusion and dysfunction of coagulation induce ischemia/hypoxia and microhemorrhage. These factors ultimately lead to changes in the white matter in the brain. Sepsis-related inflammation may have a long-term effect. Sepsis may lead to amyloid β (Aβ) and tau protein in the brain. Ultimately, these processes lead to cognitive impairment" (p.2)
Neuropsychological Effects of Sepsis #
The neuropsychological effects of sepsis can be complex and vary from patient to patient, depending on the severity and duration of the condition. Sepsis-related neuropsychological complications can include cognitive impairments such as confusion and delirium, attention and memory impairment, slowed reaction time, and altered sleep-wake cycle.
Sepsis can cause changes in brain structure due to systemic inflammation and tissue damage. This leads to brain dysfunction which can manifest as impaired executive functioning, resulting in difficulty with planning, problem-solving and decision-making. It can also lead to disruptions in language and communication, including difficulty with understanding and expressing complex language.
Psychological and emotional effects of Sepsis #
The psychological effects of sepsis can be equally severe and include depression, anxiety and disassociation. Survivors of sepsis may have difficulty sleeping due to nightmares, flashbacks, and intrusive thoughts, possibly leading to a diagnosis of post-traumatic stress disorder (PTSD). They may also become withdrawn, experience mood swings, or have difficulty understanding or processing information.
Long-term Neuropsychological consequences of Sepsis #
The neuropsychological consequences of sepsis can be long-term and persistent, leading to disabilities that can last for years after the initial illness. This can make it difficult for sufferers to resume normal activities, such as work or school, and can also lead to social isolation. Sepsis may therefore result in reduced quality of life and occupational difficulties. In addition, severe sepsis can contribute to or cause a variety of movement disorders, such as tremors, ataxia, and Parkinsonism, and may cause accelerated brain ageing in some patients.
Neuropsychological rehabilitation following Sepsis #
Given the multiple layers of complexity associated with sepsis, it is important for healthcare providers to consider the neuropsychological effects of sepsis when diagnosing, treating, and managing the condition. Neuropsychological interventions and rehabilitation can help to reduce the long-term effects of sepsis and enable patients to better manage their conditions. It is important to also target the physical damage caused by sepsis such as neuroinflammation, blood-brain-barrier dysfunction and amyloid β and tau phosphorylation (Sekino & Shehadah, 2022) if the impact of neuropsychological intervention is to be maximised.
Further reading #
Barichello, T., Sayana, P., Giridharan, V.V. et al. Long-Term Cognitive Outcomes After Sepsis: a Translational Systematic Review. Mol Neurobiol 56, 186–251 (2019). https://doi.org/10.1007/s12035-018-1048-2
Calsavara, A.J.C., Costa, P.A., Nobre, V. et al. (2018) Factors Associated With Short and Long Term Cognitive Changes in Patients With Sepsis. Sci Rep 8, 4509. https://doi.org/10.1038/s41598-018-22754-3
Czempik, P. F., Pluta, M., & Krzych, Ł. J. (2020b). Sepsis-Associated Brain Dysfunction: A Review of Current Literature. International Journal of Environmental Research and Public Health, 17(16), 5852. https://doi.org/10.3390/ijerph17165852
Della Giovampaola, M., Cavalli, I., & Mascia, L. (2022b). Neuropsychological Outcome of Critically Ill Patients with Severe Infection. Biomedicines, 10(3), 526. https://doi.org/10.3390/biomedicines10030526
Seidel, G., Gaser, C., Götz, T., Günther, A., & Hamzei, F. (2020b). Accelerated brain ageing in sepsis survivors with cognitive long‐term impairment. European Journal of Neuroscience, 52(10), 4395–4402. https://doi.org/10.1111/ejn.14850
Sekino, N., Selim, M., & Shehadah, A. (2022). Sepsis-associated brain injury: underlying mechanisms and potential therapeutic strategies for acute and long-term cognitive impairments. Journal of Neuroinflammation, 19(1). https://doi.org/10.1186/s12974-022-02464-4
Sonneville, R., Verdonk, F., Rauturier, C., Klein, I. F., Wolff, M., Annane, D., Chrétien, F., & Sharshar, T. (2013). Understanding brain dysfunction in sepsis. Annals of Intensive Care, 3(1). https://doi.org/10.1186/2110-5820-3-15
Neuropsychological Assessment of Post-Sepsis Cognitive Deficits #
If you feel you need a post-sepsis neuropsychological assessment and assistance with rehabilitation of cognitive functions from a clinical neuropsychologist, please contact us!